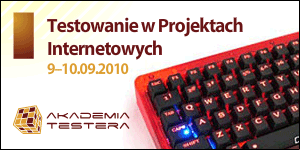 Testowanie w Projektach Internetowych
9-10 września 2010r. Warszawa
Wykorzystanie technologii internetowych do tworzenia rozmaitych systemów jest standardem w firmach wytwarzających oprogramowanie.
PHP, Java, Ajax, czy ASP.NET to norma w dzisiejszym Internecie.
Chcesz zdobyć wiedzę z zakresu technologii internetowych, właściwości aplikacji internetowych i nauczyć się dobierać stosowne metody, techniki oraz narzędzia?
To szkolenie jest dla Ciebie!
Ramowy zakres szkolenia:
wprowadzenie do technologii internetowych
właściwości aplikacji internetowych
środowisko testowe aplikacji internetowych
metodyki testowania
automatyzacja
testy niefunkcjonalne
metryki
Na szkolenie zapraszamy:
Osoby z podstawowymi umiejętnościami z zakresu technologii internetowych, które w swojej pracy zawodowej zajmują się lub też planują się zajmować implementacją i sprawdzaniem jakości oprogramowania internetowego. Szkolenie skierowane jest zarówno do zawodowych testerów jak i osób pragnących ruszyć z własnym start-upem.
Umiejętności słuchaczy po szkoleniu:
Uczestnicy zdobędą wiedzę z zakresu technologii internetowych, właściwości aplikacji internetowych oraz nauczą się dobierać stosowne metody, techniki oraz narzędzia. Uczestnicy szkolenia otrzymają certyfikat udziału Akademii Testera
Bliższe informacje na temat szkolenia na stronie:
http://www.multitrain.pl/home/kalendarium/testowanie-w-projektach-internetowych.htm
Czas trwania: 2 dni, godz. 9-17 (2×8 godz.)
Cena szkolenia: 2 000 PLN
UWAGA: Zniżka 20% dla osób powołujących się na portal e-Informatyka.pl
Kontakt:
Agnieszka Ogrodnik
agnieszka.ogrodnik@multitrain.pl
22 / 224 06 48
MultiTrain
www.multitrain.pl
ul. Blokowa 32
02-641 Warszawa